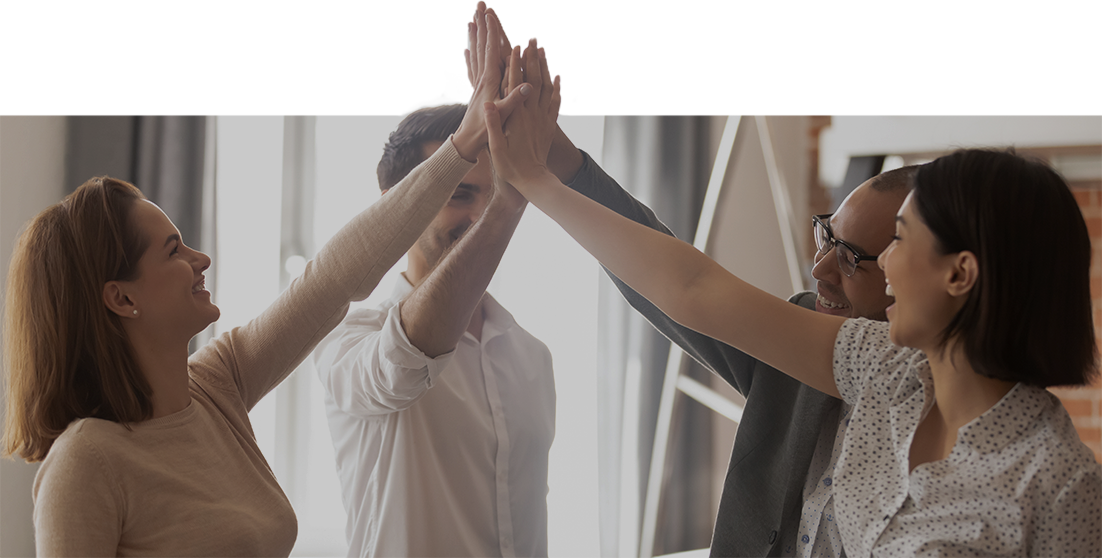 Work with us
Join IT Vision team
In IT Vision we believe that value of the company is created by its employees. That's why we care about our team and we support careers and growth of our employees. We value enthusiasm, openness and creativity. That's why in recruitment process we emphasize not only excellent substantive preparation, but above all for the potential and commitment of the candidate.
Cooperation with us is connected with interesting tasks and allows to meet new technologies and business from different industries and areas both in the country and abroad. In IT Vision we focus on gaining new qualifications and intensive development.
Experts from various fields can find work in IT Vision – consulting, implementation of ERP, BI systems, programming or HR and payroll. We are also like to work with people who want to gain experience and consolidate knowledge while working in our company. We flexibly model the development of our employees, enabling them to achieve their professional goals.
In IT Vision you can develop and acquire knowledge in the areas of:
Impementation of Dynamics / Businnes Central
Impementation of RamBase
Impementation of Netsuite
Consulting
Reports and simulations
Programming
You can't find suitable job offer and you want to work with us? That's not an issue. Sent us your CV and let us know about your strengths. Maybe what our company needs is you?
Are you at the beginning of your career? Apply for paid internships in IT Vision. If you are willing to cooperate with us, please share your CV with us.
We recruit for positions:
ERP / CRM Systems Consultant
Job description:
The person employed in this position will participate in projects and carry out tasks related to the implementation and maintenance of IT systems for enterprises.
We expect from the candidate:
At least one year of experience in ERP, CRM, production or logistics system implementation teams
Knowledge of Microsoft Dynamics (NAV / CRM) or other systems will be an advantage
Knowledge of SQL will be an advantage
Knowledge about the functioning of enterprises
Higher education (knowledge of the basics of accounting will be an advantage)
Commitment, motivation and teamwork skills
Communicative English skills
Organizational and analytical skills
Driving licenses (category B)
We offer:
Participation in ambitious projects, icluding international projects
Performance bonuses and additional benefits, including Multisport
Choice of employment agreementor contract
Opportunity for professional development and participation in training
Please send your CV to praca@itvision.pl
Intern - IT specialist
Job description:
A trainee in this position will have the opportunity to learn, under the supervision of an experienced consultant,  about: keeping technical documentation of the project, gain programming skills in C / AL technology, Reporting Services, and conduct end-user tests.
We expect from the candidate:
Being a graduate or student at least 3 year of IT or economics studies
Knowledge of the basics of programming will be an advantage
Knowledge of the basics of accounting or the basics of enterprise operation
Skills to set goals
Commitment to entrusted tasks, diligence, punctuality
Communicative English skills
Driving license (category B) will be an advantage
We offer:
Possibility of an internship in a stable and dynamically developing company
Participation in ambitious projects
The opportunity to gain work experience
For the best opportunity to start cooperation after the internship
Please send your CV to praca@itvision.pl
Do you send your CV to us? Let us process your data and add the following clause:
I consent to the processing of my personal data contained in my CV for the purposes of the recruitment process carried out by IT Vision sp.z o.o., registered office in Krakow (in accordance with Regulation (EU) 2016/679 of the European Parliament and of the Council of 27 April 2016 on the protection of individuals with regard to the processing of personal data and on the free movement of such data, and repealing Directive 95/46 / WE (RODO)).
Do you want us to include your candidacy in other recruitments? Add the following clause:
I consent to the processing of my personal data and other data contained in my application and CV for the purposes of future recruitment processes. I am aware of my right to withdraw consent, as well as the fact that the withdrawal of consent does not affect the lawfulness of the processing based on consent before its withdrawal.
Data administrator
Please be advised that the data administrator is IT Vision Sp. z o.o., registered office in Kraków at J. Chełmońskiego 166 Street. Data are collected for the purposes of recruitment. You have the right to access your data and correct it. Providing data within the scope of the provisions of the Act of 26 June 1974 - the Labor Code and executive acts is mandatory.