One of the basic advantages of cloud solutions is the ability to delegate an SLA (Service Level Agreement) for the entire solution, from infrastructure to application, instead of to components. In addition, cloud platform reduces number of costs and components and lowers Total Cost of Ownership (TCO). What is more cloud based systems are more reliable and enable faster development processes and reduce risk.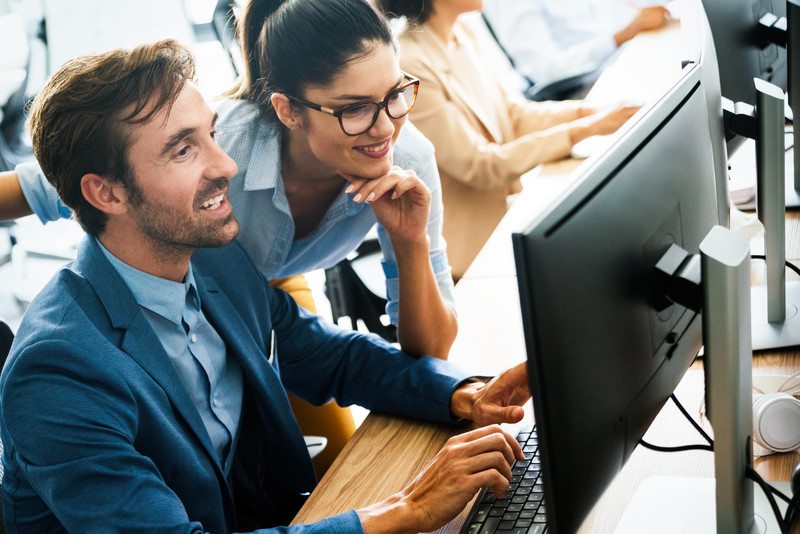 It's worth emphasizing that companies that install solutions locally, in situations where such a need arises, lose many of the benefits of the cloud and face many traps.
NetSuite as a cloud solution leader takes care of delivering true cloud platform. In addition, it constantly works on offering its customers integrated solutions package. With NetSuite's SuiteSuccess model, new customers can quickly deploy their solutions and take advantage of leading business process practices. This allows customers to both create and realize value in their companies much earlier than with the traditional (on-premise) approach.
The cloud platform is not only about achieving results quickly. It also means lower costs. For Total Cost of Ownership (TCO), NetSuite savings can range from 20 to 50 percent.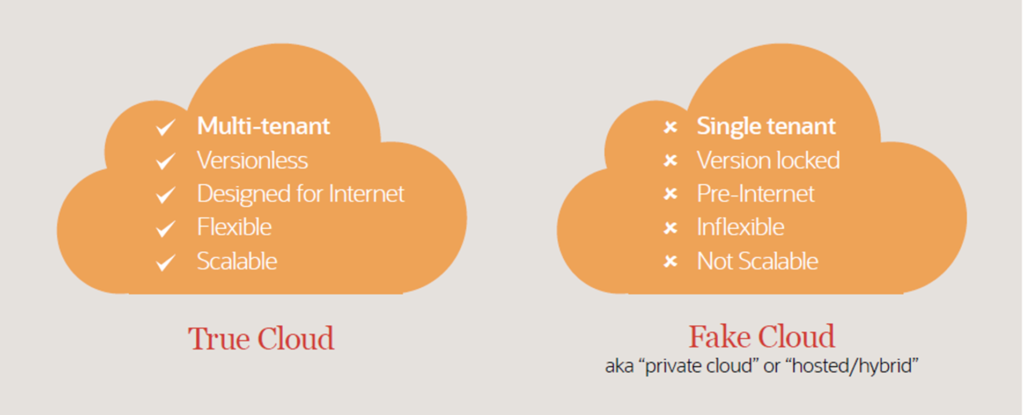 NetSuite: The Value of a True Cloud Platform – Key Differentiating Factors
NetSuite is offered as Saas (Software as a Service). It means that the application is available via browser or via application installed on mobile phone or tablet.
The advantage of a cloud-based solution is that there is no need to secure the appropriate infrastructure. As is the case with on-premise solutions. Cloud customers don't have to deal with managing the underlying system infrastructure, including network, servers, operating systems, storage, and application updates. The provider of the NetSuite system is responsible for these activities.
The wide availability of the cloud matters
In case of a fully cloud-based service, all clients (users) typically access the same solution from the same cloud. This gives you constant and immediate access to the latest product updates. It is not necessary to manually update the solution.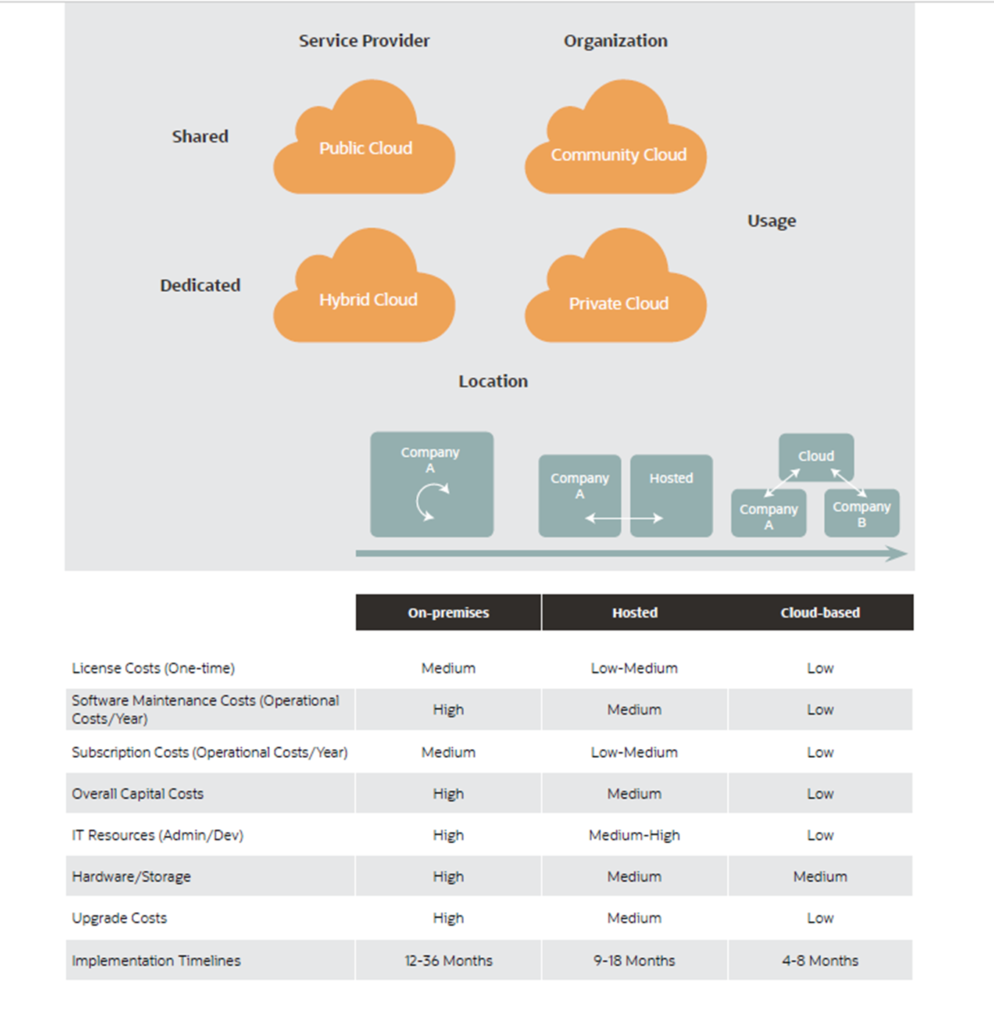 Protection of your IT investments
NetSuite is a public cloud. The cloud-based approach to the ERP system is not just one installation of application. Thanks to this solution, every company, regardless of its size, uses the same, have the latest version of the software. The same version is available worldwide. Thus, you can take advantage of economies of scale, increased efficiency, scalability and lower IT costs.
Two-step ERP strategy. A two-step ERP is a business and technology strategy that enables manufacturing companies to maintain their investments in existing ERP systems, such as SAP or Oracle, while deploying ERP in the cloud, ie NetSuite, in newer subsidiaries. Because large companies grow and restructure through mergers and acquisitions into larger companies. One strategy to maintain existing ERP investments is to adopt a so-called "hub and spoke" approach to ERP.
"Hub and spoke" presupposes the existence of a transport node (hub) and the radial transport lines supplying it (spoke). Transport within this system takes place first to the transport node and then from the node to the selected destination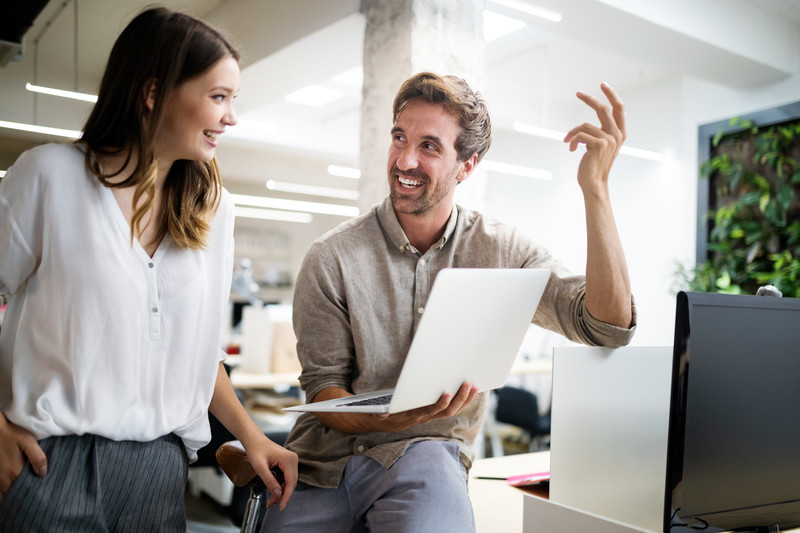 There are three model of "Hub and spoke":
1. All business units use one application instance.
2. The enterprise center and business units use the same application but can have more than one instance.
3. Business units choose from an approved list of solutions that allows subsidiaries to choose the solution best suited to their requirements. For example, localized business units often need to deal with specific customer billing and payment practices as well as local requirements and regulations.
Integrated suite of business applications
Regardless of the industry in which your company operates, it certainly uses systems and solutions supporting its operation. Having multiple solutions in one company often causes problems with effective cost management. Additionally, in this approach, process bottlenecks and problems with employee productivity arise.
Integrated software packages are changing the way businesses operate by providing real-time visibility and flexibility. These are the solutions that are necessary to see what is happening in the company anywhere, anytime.
In a ROI study by independent analyst Nucleus Research, customers using the NetSuite integrated cloud business suite accelerated financial close times by up to 50%, improved sales productivity by 12.5% and increased inventory turnover by 50%.
If you are considering implementing an integrated management platform:
Or